At Ciritorno nobody leaves the property on an empty stomach!
OUR BREAKFAST
Your awakening will be sweet with the scent of home-made cakes in the air.
From the kitchen, the smell of freshly baked pastries wafts over the upper floors, where the rooms are located, and invites you to come down to the breakfast room.
This is the first "caress" of the morning at Ciritorno and it is easy for the day starts with a smile for so many enticing and excellent reasons.
We take care of you and your loved ones in the early hours of the day; whether you prefer a hearty breakfast, are a health enthusiast, or just want a quick coffee, breakfast brings quality of life, pleasure and joy. Let yourself be pampered … but wisely!
From us:
– You can be sure to find a table laden with products that come mainly from local farms, or at least a short chain, all products prepared with high quality ingredients. You can eat with gusto without neglecting your health.
– you have the serenity of knowing that you can get up without any hurry and eat breakfast in our garden or on the veranda. This is the breakfast you've always dreamed of in your working day, when it is a miracle to even grab a quick coffee.
– you have the opportunity to also get to know our territory through food, in a land where the Etruscans left their mark. We share with you the story of the products we offer on the buffet table.
Dream with your eyes open as Francesca's stories come to life through the taste of peanuts produced in nearby Venturina (one of the few farms in Italy specialized in peanut crops), or the fruits and vegetables coming from gardens in San Vincenzo or in the nearby countryside.
Every village is alive, full of anecdotes and traditions; at our buffet, it will be easy to see the location and history of the inhabitants of this Etruscan land.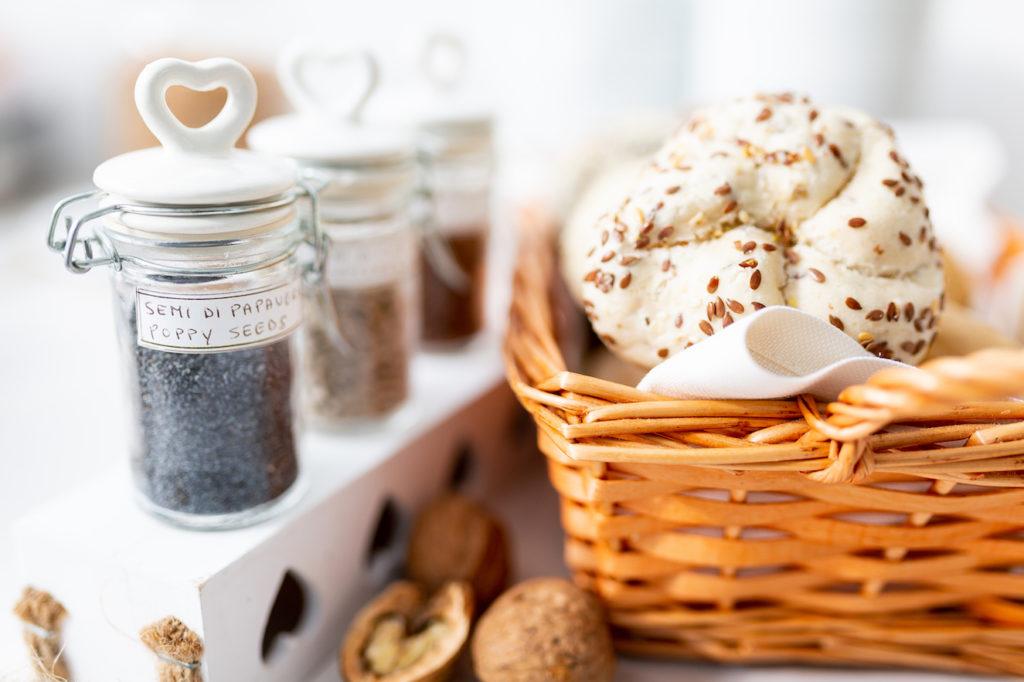 – Sweet or savory? Decide for yourself.
If you're a fan of savory foods: Ham, porchetta, guaranteed and certified Val di Cornia cold cuts, cheeses from the Maremma and the hills behind San Vincenzo, eggs, bread and tomato like the breakfasts of Tuscan farmers.
If you can't say no to breakfast: pastries, homemade cakes, pancakes to be combined with a selection of jam, plum cakes, muffins, honey of San Vincenzo and seasonal fruit 0 Km.
Whether you are a child … or a big kid– anyone who can resist chocolate, raise your hand! Young and old can rediscover the flavors of home with some additional variations: shortbread, Tuscany hazelnut cream, smarties and cocoa powder!
Do you have any food intolerances? Don't worry, please notify us in time and you will have a buffet breakfast without being limited to the usual biscuit.
Our breakfast buffet is open from 8:00 to 10:00 a.m., but if you are here for business or have special requirements for earlier service, let us know!
We will organize breakfast you for at our hotel bar.
At Ciritorno, nobody leaves the property on an empty stomach!